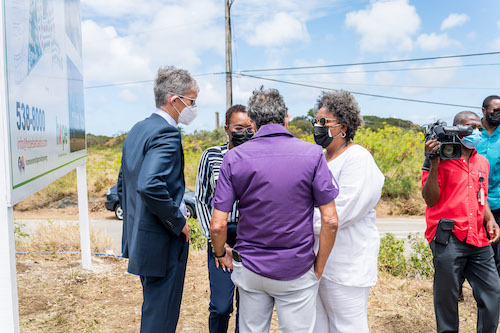 What is HOPE and why has it come about?
Home Ownership Providing Energy Inc. is 100% owned by the Government of Barbados. Recognizing that it is extremely difficult for many persons making $4000 a month or less to qualify for a construction mortgage loan, HOPE was designed by Government to remedy that problem. HOPE will provide the land at no cost to the buyer. Lot sizes vary from 4,000 – 5,000 square feet and are valued at approx. $50,000 - $60,000 dollars. The buyer now has sufficient equity in the home to qualify for a mortgage using the land as collateral.
Who is eligible?
All persons resident in Barbados over 18 years old, who are employed and earn no more than $4000 (NET) per month are eligible to apply.
Has work started on homes and if so, where?
Yes, HOPE is happy to announce that we are well on our way at Vespera Gardens, Lancaster, St. James. Next up will be Colleton in St. Lucy, then Four Roads, St. John.
What are the overall future plans for the project in the next few years?
The Government is committed to a robust building program in Barbados. HOPE has been mandated to build between 700 - 800 houses per year. The process of identifying several more tracts of suitable land in every parish for future HOPE developments is well on its way. HOPE's houses and communities are specifically designed to be aspirational middle-income homes, attractive and hurricane-resilient.
A one stop-shop for those interested in the project - please explain this?
HOPE offers a simple, hassle-free process. Your entire application is done via our website hopebarbados.com.  HOPE's customer-service staff members will arrange all details with the lending company, the attorneys-at-law and the assigned contractors. Besides saving you time, it speeds up the process of getting you into your new home.
We are proud to say that ALL construction at ALL our developments will be carried out by small contractors. These contractors must be able to demonstrate expertise and experience by means of past work, which will be assessed by HOPE's technical staff. HOPE will provide working capital so that contractors with the right expertise, experience and tools of the trade will not be excluded simply due to lack of financial resources. This will quickly provide many hundreds of jobs in construction and also many more for the local suppliers of construction materials.
This is quite generous, how does HOPE make money?
HOPE is designed as a not-for-profit entity. However, it needs to recover the cost of the developed land it is giving to homeowners in order to allow HOPE to continue providing homes for many years to come, thus benefitting thousands of people well into the future. The answer is for HOPE to install photo-voltaic (PV) systems on each roof  to generate electricity which is then sold to The Barbados Light & Power. The earnings received by HOPE will allow us to gradually recover the initial cost for the PV systems, the land and the infrastructure. Once these costs are recovered, estimated in 15 – 20 years based on the amount of electricity generated by each PV system, HOPE will give each PV system to the homeowner. PV panels are generally rated for 25 – 30 years' useful life, so the homeowners should receive the PV earnings for several years. At the end of the system's useful life the homeowners may choose to replace it at their own expense with a new system.
@font-face
{font-family:"Cambria Math";
panose-1:2 4 5 3 5 4 6 3 2 4;
mso-font-charset:0;
mso-generic-font-family:roman;
mso-font-pitch:variable;
mso-font-signature:-536870145 1107305727 0 0 415 0;}@font-face
{font-family:Calibri;
panose-1:2 15 5 2 2 2 4 3 2 4;
mso-font-charset:0;
mso-generic-font-family:swiss;
mso-font-pitch:variable;
mso-font-signature:-469750017 -1073732485 9 0 511 0;}p.MsoNormal, li.MsoNormal, div.MsoNormal
{mso-style-unhide:no;
mso-style-qformat:yes;
mso-style-parent:"";
margin-top:0in;
margin-right:0in;
margin-bottom:8.0pt;
margin-left:0in;
line-height:107%;
mso-pagination:widow-orphan;
font-size:11.0pt;
font-family:"Calibri",sans-serif;
mso-ascii-font-family:Calibri;
mso-ascii-theme-font:minor-latin;
mso-fareast-font-family:Calibri;
mso-fareast-theme-font:minor-latin;
mso-hansi-font-family:Calibri;
mso-hansi-theme-font:minor-latin;
mso-bidi-font-family:"Times New Roman";
mso-bidi-theme-font:minor-bidi;}p
{mso-style-noshow:yes;
mso-style-priority:99;
mso-margin-top-alt:auto;
margin-right:0in;
mso-margin-bottom-alt:auto;
margin-left:0in;
mso-pagination:widow-orphan;
font-size:12.0pt;
font-family:"Times New Roman",serif;
mso-fareast-font-family:"Times New Roman";}.MsoChpDefault
{mso-style-type:export-only;
mso-default-props:yes;
font-size:11.0pt;
mso-ansi-font-size:11.0pt;
mso-bidi-font-size:11.0pt;
font-family:"Calibri",sans-serif;
mso-ascii-font-family:Calibri;
mso-ascii-theme-font:minor-latin;
mso-fareast-font-family:Calibri;
mso-fareast-theme-font:minor-latin;
mso-hansi-font-family:Calibri;
mso-hansi-theme-font:minor-latin;
mso-bidi-font-family:"Times New Roman";
mso-bidi-theme-font:minor-bidi;}.MsoPapDefault
{mso-style-type:export-only;
margin-bottom:8.0pt;
line-height:107%;}div.WordSection1
{page:WordSection1;}